As the pandemic re-surged this Fall, we started finding socially distanced outdoor get-togethers getting a little chilly. So I bought a Mr. Heater "Big Buddy" portable propane heater to help extend the season.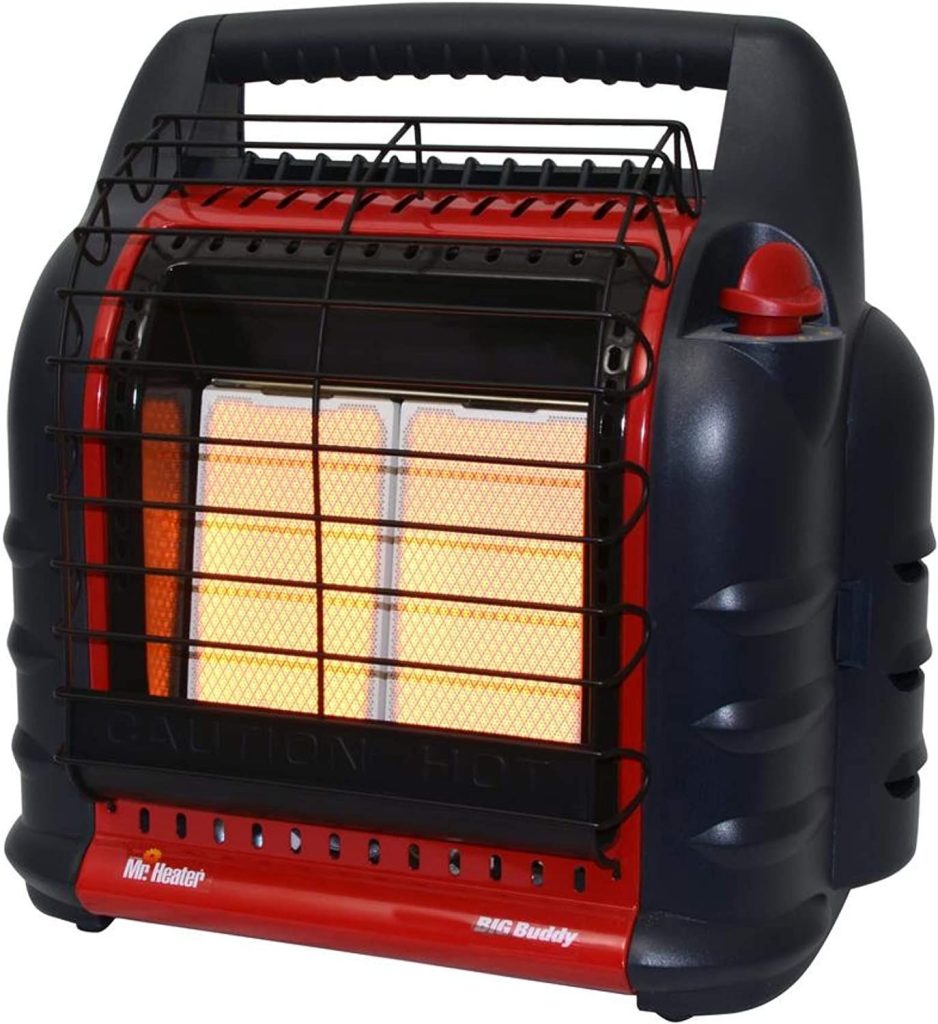 In the process, I've learned a few things about propane heaters I'll share below:
Gas or Electric Heat: Propane heaters are characterized by their heat output in BTUs; electric heaters are typically characterized by their power consumption in Watts. You can convert electric power consumption to BTUs by multiplying it by 3.41. So a 1500W heater (about as big as you can put on a typical circuit in your house) will generate the equivalent of 5115 BTUs. For comparison, the Big Buddy heater has 3 output settings: 4000, 9000, and 18000 BTU. A typical propane patio heater generates 48000 BTU or more. Bottom line: propane heaters can generate much more heat than electric heaters. An electric heater is probably insufficient for outdoor heating.

Gas vs. Electric Cost: at typical electricity costs, a 1500W heater will cost under $0.22/hour to run. Exchanging an empty 20lb propane tank for a filled one costs about $20. 1lb of propane will run a Big Buddy heater on low for around 5.5 hours so the cost to run is around $0.18/hour. Note: if you use disposable 1lb propane camping cylinders instead of 20lb refillable tanks, the propane cost is much higher…see more below.
Bottom line: heating with propane can cost about the same as with electric.

How much heat: I should start by saying that I like things warm. It's also really tough to heat a substantial area outdoors since the heat dissipates into the environment so quickly. Anyone with a fire pit knows that it's only hot within a few feet the pit. In our early trials, the Big Buddy on high output made a 55 degree day acceptable when we were outdoors and fairly close to it (2-3 feet). I doubt it will be enough when temperatures drop below 50F; that probably will require the bigger patio heaters (and even then, not if it's windy). I expect the Big Buddy would heat any enclosed and properly ventilated space (e.g. a garage with ventilation) fairly quickly even on very cold days. There are lots of testimonials to that effect.
Bottom line: Good for Spring and Fall evenings outdoors and for emergency indoor heat (see more on indoor use below).

Getting Propane: heaters like the Big Buddy can run on the super common 20lb refillable propane tanks used for outdoor gas grills as well as on one or two 1lb "camping" propane tanks. The camping tanks are usually disposable (DOT 39) and are *much* more expensive. At Home Depot and Lowes, 1lb disposable tanks cost around $5.50 each so heating using them costs around $1/hour (at the low-heat setting). Obviously the 1lb tanks make the heater much more portable.

How long will a tank last: propane heaters can generate a lot more heat output, but at their higher outputs, they consume a lot of propane. At high output (18K BTU), the BigBuddy consumes roughly 1lb of propane per hour, so it will cost roughly $1/hour when run from a 20lb tank and more than $5.25/hour when using disposable 1lb tanks. The larger 48000+BTU patio heaters can get expensive to run (several dollars/hour) even when using refillable tanks.

Refilling 1lb tanks: people try to save money by re-filling disposable 1lb camping cylinders from 20lb refillable tanks. There are loads of gadgets on Amazon specifically to do this and tons of youtube videos showing how. This is a BAD IDEA. Those cylinders are regulated by the US Department of Transportation (DOT) and they make it very clear that this is dangerous and you should not do it. They even made a video…see here. There is only one company that appears to make a legally refillable 1lb propane tank: Flame King (see here). I suspect they have a patent. You can get them at Lowes and elsewhere, but they are out of stock everywhere. A nice video on the refillable cylinders is here.

Indoor Use: according to the manual (and everything I've read), the Big Buddy can be used indoors for emergency use only (i.e. if your heat is out due to a power outage). There are some caveats: you can only use it indoors on low or medium settings (depends on where you use it: bedroom, bathroom, etc.). You need to crack a window for ventilation and you shouldn't sleep with it on. You shouldn't have a 20lb cylinder in your house so you need to use it with 1lb cylinders indoors. I wouldn't run a combustion heater indoors without a Carbon Monoxide monitor in the same room (I have these anyway since our house is heated by natural gas).
Bottom Line: READ THE MANUAL AND FOLLOW THE INSTRUCTIONS.


Adapter hoses: if you're using the Big Buddy outdoors, especially in a fixed location like a patio, you'll probably want to use it with a 20lb refillable tank both for cost and convenience reasons (you won't constantly be replacing 1lb cylinders). Mr. Heater makes an adapter hose that you can use with a standard 20lb tank. NOTE: the Mr. Heater hose is made of a special material that won't leech oil into the propane and eventually clog (ruin) your heater. If you use a 3rd party hose, it will be cheaper and more flexible, but you *must* use it with an oil filter (the manual provides the part number) and you must replace that filter annually (it fills with oil and then stops working). I'm using it with a 20lb tank and the hose.
Stove fan: the Big Buddy used to come with a built-in battery-powered fan to help circulate the warm air. They don't come with the fan anymore; I heard it was due to tariff restrictions. A number of people have added stove fans to their Big Buddy (lots of youtube videos) and I really like the idea. A stove-fan is a heat-powered fan (uses a built-in thermo-electric generator that converts a heat differential into electricity) so no batteries; they're meant to sit on top of a wood-burning stove. People use a Dremel (rotary tool) make a notch in the fan body that will let it lock into the top of the Big Buddy grill. I'm going to look into that (make sure it's safe and that the heater won't destroy the fan); there are loads of stove fans on amazon.
Ultimately, I like the Big Buddy; it is well made, portable, and does most of what I wanted. I like that it can be used indoors as an emergency heat source and outdoors to extend the season a little. However, if you plan to entertain much outdoors during cold weather, you probably will want something bigger (a patio heater)…and be prepared to go through a lot of propane (fine with 20lb cylinder, not so fine with 1lb cylinders). In cold weather, the Big Buddy helps if you're close to it (like 1-2 feet away), but don't expect to be outdoors in shorts during the winter. An electric blanket/throw is actually the best solution.
Stay safe and warm!