This is my second post about disappointing Mustool products (there won't be a third).
I use stereo optical microscopes when doing surface-mount electronics (SMT) assembly and inspection. They work well, but are large and heavy. I decided to try one of the inexpensive "digital microscopes" that was reviewed well and looked like it had a large relief distance (the distance between the lens of the microscope and the item being viewed) which is important so you have room to work. I ordered the Mustool G600 from Banggood.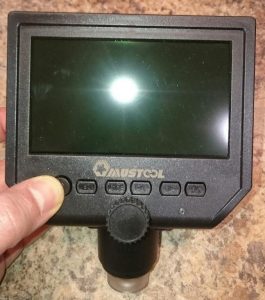 The good: the aluminum stand was easy to assemble and they even included the required Allen key. The stand works well, adjusting the microscope height is smooth, and the relief is indeed quite good. When I first turned it on, the buttons were a little unresponsive and it presented a menu that I couldn't navigate, but after turning it off and back on, and adjusting the smooth focus knob, the microscope gave a clear, sharp picture.
Small bad: I didn't realize how beneficial stereo is to SMT work. With a mono image, even though it was sharp, I didn't have any depth perception which made it hard to tell how high above the board my soldering iron and solder were. It's possible I'd get used to this but I'll never know because…

Big bad: I played with the microscope for 5-10 minutes and then turned it off. When I tried to turn it back on…nada: just a black screen. I tried charging it, resetting it, pressing every button combo I could think of and it just remains unresponsive. So it's dead.
The worst: I received the package during the week and didn't have time to play with it until the weekend which was past the Banggood 3-day warranty period – yes, you read that correctly: 3 days. So any money I saved by purchasing on bangood is now easily offset by the $42 wasted on this piece of junk – not to mention the time and aggravation.
This is my second extremely disappointing mustool purchase; the first was their MT8205 scopemeter – which was also a complete waste and you can read about it in my blog. I will not purchase anything made by Mustool again; fool me twice…shame on me.
Until now, I've been a big advocate of banggood; they refunded my purchase price for the MT8205 – which reinforced my faith in them as a seller. It's a shame they are now carrying such junky products and chasing them with a ridiculous warranty. I'm going to have to re-think purchasing from Banggood since the same products are usually available on amazon with reasonable warranty and return policies.