Since we can't go on vacation during the pandemic, I wanted to make a spa experience for my wife so she can have a bit of a vacation at home. Part of that experience was to be able to relax in the tub while watching her favorite shows. Putting a TV near the tub is challenging for all sorts of reasons, but mainly because I don't want AC mains power anywhere near the tub. So here was the solution I came up with: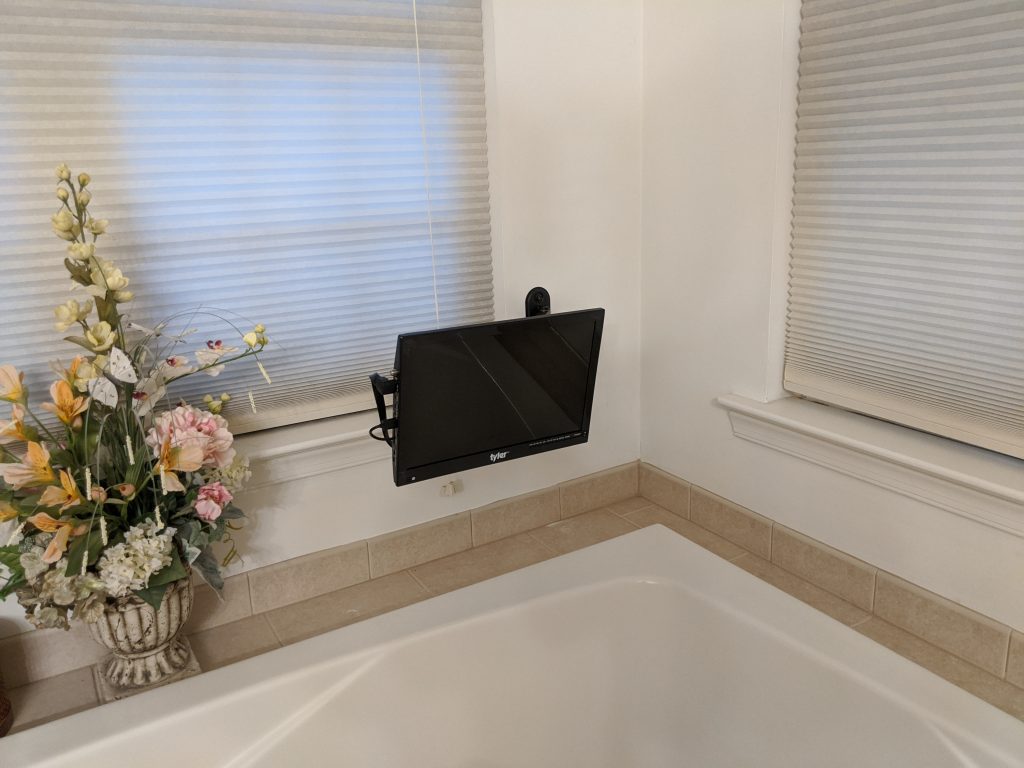 Tyler TTV705-14 Battery-powered, VESA-mountable 14″ TV (eBay)
Mounting Dream full-motion wall-mount TV arm (amazon)
Vivo VESA quick-release plate (amazon)
Roku or Amazon 4K Fire Stick
Right-angle short HDMI extension cable (amazon)
Short USB extension cable
Industrial velcro
Bath Pillow (amazon)
Floating water-activated bath candles (amazon) (for more spa effect)
The overall result was nice (and safe). The TV mounts to the quick release plate which mounts to the wall-mount arm, allowing the TV to be positioned at a good angle for viewing and swiveled back against the wall when not in use. The streaming stick (Roku or Amazon as you prefer) mounts on the back of the TV with industrial velcro and connects to the side of the TV to get power from the USB port and send video to the HDMI input.
I'd worried that 14″ would be too small, but it's actually just right since you're pretty close to it in the tub and the audio is quite good. The TV can receive over-the-air channels too if you connect an antenna, but we're not in a great reception spot so the streaming solution works much better and there's no unsightly antenna; it's fully self-contained.
The quick-release VESA plate allows you to easily slide the TV off the wall-mount arm to recharge the battery when needed, but holds it securely in place otherwise. Overall, I'm happy with the solution!

Next steps:

1. Waterproof the remote. I haven't found a waterproof case for these so I may end up using an amazon echo dot elsewhere in the bathroom to provide voice control…possibly the easiest tub-safe option.

2. Running 12vdc from the ceiling to the TV so it doesn't need to be removed for charging. This would be a bigger project; using 12vdc keeps it safe (I still don't want mains power anywhere near the tub), but our tub is in the corner of the house where it will be tough to fish a line to bring down 12vdc power from the attic. If DC power is there permanently, there's no need for a battery-powered TV that must be charged periodically, so I might then replace it with a slightly larger LCD monitor.